Lot 40532 –
30c ambre sur lettre Lpts 61 IXELLES (BRUX)/20/MAI/1871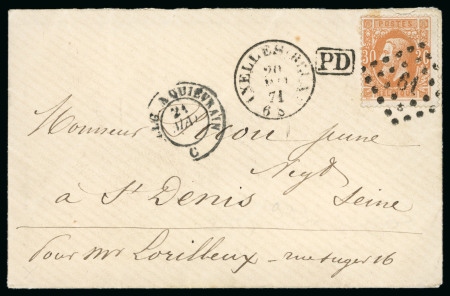 Lot 40532 –
30c ambre sur lettre Lpts 61 IXELLES (BRUX)/20/MAI/1871
Belgium
Auction date
Wed 11 Dec 2019 at 13:30 (Europe/Zurich)
30c ambre sur lettre Lpts 61 IXELLES (BRUX)/20/MAI/1871 pour Mr Picou St Denis « Pour Mr Lorilleux rue Auger, 16 ». Lettre envoyée à Mr Lorilleux par l'intermédiaire de Mr Picou à St Denis (Paris) durant la semaine sanglante (21 au 28 mai 1871). L'agence Picou/Gaudin acheminait le courrier entrant dans Paris. La poste officielle ne fonctionnant pas.
Please note that we are still working on adding images for the lots. If the lot you are interested in does not have images available yet, we invite you to check again in a few days.
If you still cannot find the images you are looking for in a few days, please send us a message. Important: don't forget to mention the lot number(s).
Thank you for your understanding.