Lot 40529 –
COB N°21+31+34 (1,60 frs) sur lettre Lpts 12 ANVERS/1/SEPT/1871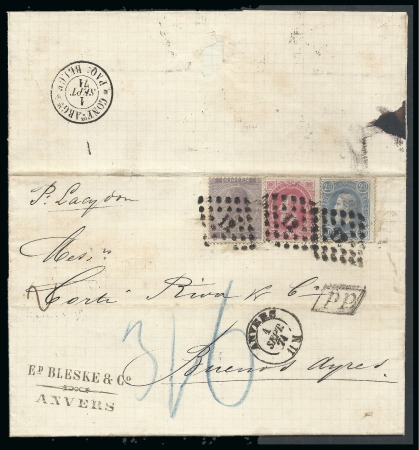 Lot 40529 –
COB N°21+31+34 (1,60 frs) sur lettre Lpts 12 ANVERS/1/SEPT/1871
Belgium » Belgique. Léopold 1er – Nouveau Type – Affranchissements mixtes, composés, etc.
Auction date
Wed 11 Dec 2019 at 12:30 (UTC)
Description
COB N°21+31+34 (1,60 frs) sur lettre Lpts 12 ANVERS/1/SEPT/1871 + PP pour Buenos Aires par le « Lacydon » + au dos le rarissime cachet « CONFON ARGNE /*PAQ BELGE* ». La lettre est affranchie jusqu'au port de débarquement + « 3/6 » en bleu (3 pesos/6 réales) pour le port intérieur.
Rare lettre avec affranchissement mixte de deux émissions
Catalogue ref:
COB 21+31+34
Please note that we are still working on adding images for the lots. If the lot you are interested in does not have images available yet, we invite you to check again in a few days.
If you still cannot find the images you are looking for in a few days, please send us a message. Important: don't forget to mention the lot number(s).
Thank you for your understanding.