Lot 60108 – Schweiz » Sammlungen
1850-1992, Gebrauchte und ungebrauchte Sammlung Schweiz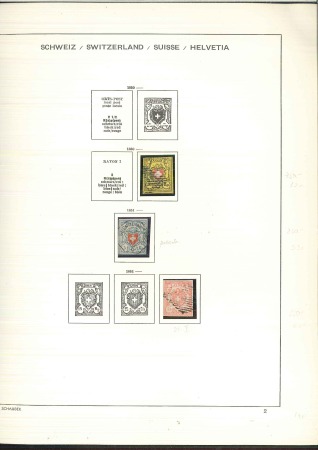 1850-1992, Mint and used collection of Switzerland in five album, from the early Poste Locale stamp to the modern issues, good selection of Rayon-stamps, imperforate Sitting Helvetia including proofs, valuable selection of mint Standing Helvetia with outstanding items such as 91C with BPB certificate, also NABA-min.sheet on cover, later issues with good varieties, postage due stamps with Specimen overprints, special section of Geneva Organisations including unusual used values in complete sheets, includes also small postal stationery section, United Nations, etc.
1850-1992, Gebrauchte und ungebrauchte Sammlung Schweiz in fünf Alben, ab Poste Locale Marke bis modern, versch. Rayonmarken, Strubel Probedruck, Sitzende Helvetia gezähnt, ungebrauchte Stehende Helvetia inkl. 91C mit Attest BPB, NABA-Block auf Brief, spätere Ausgaben mit Abarten, Specimen Portomarken, Spezialteil Genfer Ämter mit gestempeltem Bogen, kl. Ganzsachensammlung, UNO, usw.
Estimate
700 – 1'000 CHF
Auction date
Fri 7 Dec 2018 at 14:00:00 (Europe/Zurich)
Sold for CHF 950
Please note that we are still working on adding images for the lots. If the lot you are interested in does not have images available yet, we invite you to check again in a few days.
If by May 20th 2019 you still cannot find the images you are looking for, please send us a message. Important: don't forget to mention the lot number(s).
Thank you for your understanding.