Lot 30121 – Great Britain » 1841 1d Red
1841-54, Group of 5 covers incl. spoon, Dumfries MC, no.1 in MC, etc.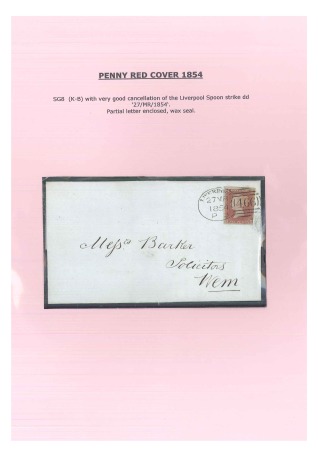 1841-54, Group of 5 covers incl. crisp Dumfries MC on 1d pl.26 (cut into), London "1" in MC in 1d pl.35 pair (one stamp cut into), "Hursley / Penny Post" adjacent to 1d pl.35, 1d pl.9 tied by crisp MC on part cover and crisp Liverpool spoon duplex tying 3-margin 1d, useful group
Estimate
100 – 150 GBP
Auction date
Tue 4 Dec 2018 at 10:00:00 (Europe/Zurich)
Sold for GBP 100
Please note that we are still working on adding images for the lots. If the lot you are interested in does not have images available yet, we invite you to check again in a few days.
If by May 20th 2019 you still cannot find the images you are looking for, please send us a message. Important: don't forget to mention the lot number(s).
Thank you for your understanding.