Lot 53347 – United States » USA Possessions » Hawaii
1857 5c Blue, large margins all around including right sheet margin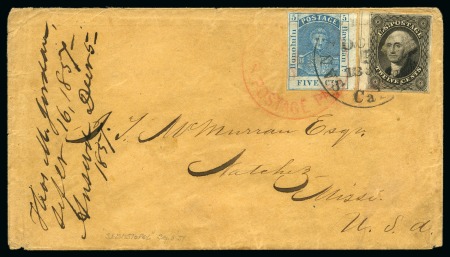 1857 5c Blue, large margins all around including right sheet margin, tied by tied by HONOLULU US POSTAGE PAID SEP8 (1857) cds in red, used together with US 1851 12c Black (large margins including left interpane), tied by SAN FRANCISCO CAL. OCT 5 1857 cds, on cover to Natchez, Miss., carried on British bark Sebastopol then PMSC Golden, Golden Age took Panama mail, then carried to New York on USMSC Star of the West, arrived November 4th, signed Askbrook, ex Krug, Haas and Gross
8+US17
1857 5c Blue, Thin White Wove (8). Full to large margins including right sheet margin, clear at top, tied
by "Honolulu U.S. Postage Paid Sep. 8" (1857) circular datestamp, used with United States 1851
12c Black (17), large margins including left interpane margin with centerline, both stamps tied by "San
Francisco Cal. Oct. 5, 1857" circular datestamp on buff cover to J. T. McMurran at Natchez Miss., docketing
indicates sender was Thomas M. Jordan, slight edgewear, Extremely Fine, carried on British bark
Sebastopol (depart Sep. 8, arrive Sep. 29), PMSC Golden Gate left on Oct. 5 but returned with broken shaft,
Golden Age took the Panama mail (depart Oct. 11, arrive Oct. 24), carried to New York on USMSC Star of
the West (depart Oct. 24, arrive Nov 4), signed Ashbrook, ex Krug and Haas…
Estimate
3'000 EUR
Auction date
Fri 7 Dec 2018 at 10:00:00 (Europe/Zurich)
Unsold
Please note that we are still working on adding images for the lots. If the lot you are interested in does not have images available yet, we invite you to check again in a few days.
If by May 20th 2019 you still cannot find the images you are looking for, please send us a message. Important: don't forget to mention the lot number(s).
Thank you for your understanding.