Lot 53261 – Mexico » Collections, Lots etc.
Mexico Postal History Collection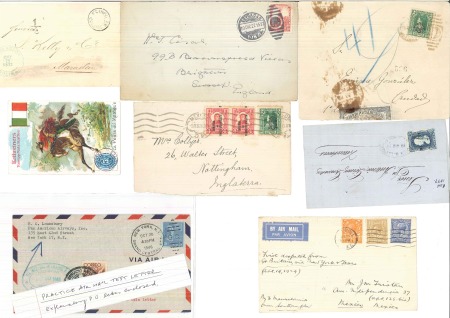 1870s-1940s covers, cards and fronts, postally used and unsed inc. some to overseas destinations. 1870s internal trio, front, entire and EL, one with 1877 25c blue tied, 1914 overprinted monogram series 2c green solo franking, tied and on internal cover officially sealed, 1914 5c orange pair, tied 'MEXICO/25JUN/15/YUCTAN', cover to USA. Also 1929 GB KGV mixed franked cover with 'LIVERPOOL/APR19' 1929 machine cancel to Mexico, endorsed 'First dispatch from Gt Britain, via new York and Texas…By Mauritania'. Plus 1946 Practice Air Mail test letter, with enclosure.
Estimate
120 EUR
Auction date
Fri 7 Dec 2018 at 10:00:00 (Europe/Zurich)
Unsold
Please note that we are still working on adding images for the lots. If the lot you are interested in does not have images available yet, we invite you to check again in a few days.
If by May 20th 2019 you still cannot find the images you are looking for, please send us a message. Important: don't forget to mention the lot number(s).
Thank you for your understanding.