Lot 53257 – Mexico » Collections, Lots etc.
Mexico Pre-stamp Locals and Mail to GB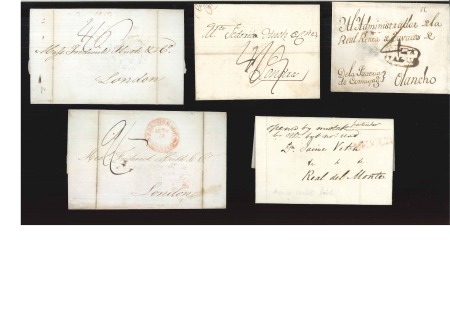 1825-44 Pre-stamp entire and letters, three and two entires, with fine strikes. 1825 EL '4/- 6d' charged with red GB 'F/5 JY 5 1825' c.d.s. and boxed 'SHIP LETTER/LIVERPOOL' h.s. over flaps, originating in Abriel, 1827 EL and Undated E (charged '4)' locals 1827 EL to Real del Monte endorsed 'Opened by mistake by…but not read', undated E to Olancho. Plus1844 '4/- 6d' charged E and EL to same company with 'VERA-CRUZ' c.d.s. and one with 'FRANCO EN/VERA CRUZ' h.s. over flaps.
Estimate
120 EUR
Auction date
Fri 7 Dec 2018 at 10:00:00 (Europe/Zurich)
Unsold
Please note that we are still working on adding images for the lots. If the lot you are interested in does not have images available yet, we invite you to check again in a few days.
If by May 20th 2019 you still cannot find the images you are looking for, please send us a message. Important: don't forget to mention the lot number(s).
Thank you for your understanding.