Lot 53227 – Korea
KOREAN WAR: 29th Independent Brigade – Rare Special Investigations Unit FPO 790 cover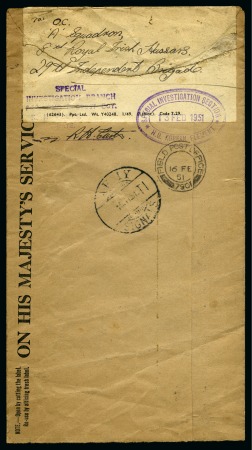 1951 OHMS cover from the Special Investigations unit to 'A Squadron, 8th Royal Irish Hussars, 29th Independent Brig', with violet 'SPECIAL INVESTIGATION SECTION/13 FEB 1951/H.Q.KOREAN ELEMENT' h.s. on label, alongside 'FIELD POST OFFICE/16 FE/51/790' and 'ARMY/ SIGNALS' c.d.s.
Estimate
240 EUR
Auction date
Fri 7 Dec 2018 at 10:00:00 (Europe/Zurich)
Sold for EUR 340
Please note that we are still working on adding images for the lots. If the lot you are interested in does not have images available yet, we invite you to check again in a few days.
If by May 20th 2019 you still cannot find the images you are looking for, please send us a message. Important: don't forget to mention the lot number(s).
Thank you for your understanding.