Lot 51614 – Russia » Russia Imperial 1917 Twenty Sixth Issue Caretaker Government 1917
RUSSIA 1917 1R imperf, shifted red colours in 5 double sheets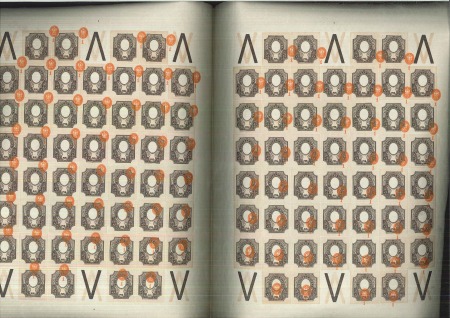 1917 1R in 5 complete horizontal double sheets of 112 (including each 12 decorated fields) with large horizontal gutter (16 gutters), showing also different colour shade of brown printing, both with progressive stronger getting colour shift of red orange print of eagle & value, never hinged, as usual folded in gutter, very fine Mi no. 77Bxb var., Standard 152 var., Liapin 148 var., Soloviev 123 var, Zverev & Gilmanov no.139 var.
Standart 152 var.
Estimate
200 EUR
Auction date
Thu 6 Dec 2018 at 14:00:00 (Europe/Zurich)
Sold for EUR 150
Please note that we are still working on adding images for the lots. If the lot you are interested in does not have images available yet, we invite you to check again in a few days.
If by May 20th 2019 you still cannot find the images you are looking for, please send us a message. Important: don't forget to mention the lot number(s).
Thank you for your understanding.