Lot 51142 – Germany » Fieldpost WW II
WWII German Military and Civilian censored mail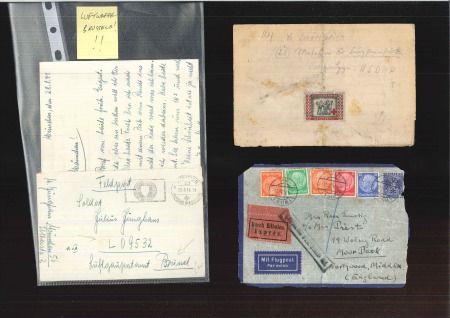 1940s WWII German Military and Civilian censored mail collection of covers and cards with different slogan cancellations, much mail with various violet German Unit cancels. Plus 1941 Munchen cover to Luftwaffe in Brussels, endorsed 'L09532' and 1944 letter from the N.S.D.A.P. to Luftwaffe 'L02630' with children Red-Cross Cinderella.
Estimate
100 EUR
Auction date
Thu 6 Dec 2018 at 10:00:00 (Europe/Zurich)
Sold for EUR 80
Please note that we are still working on adding images for the lots. If the lot you are interested in does not have images available yet, we invite you to check again in a few days.
If by May 20th 2019 you still cannot find the images you are looking for, please send us a message. Important: don't forget to mention the lot number(s).
Thank you for your understanding.