Lot 10173 –
1894 (Sep 15) Waybill for a parcel sent from Meche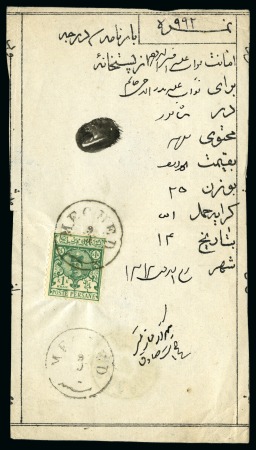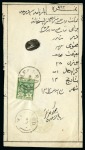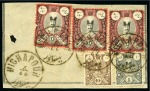 Lot 10173 –
1894 (Sep 15) Waybill for a parcel sent from Meche
Unknown
Auction date
Tue 27 Jun 2017 at 12:00 (Europe/Zurich)
1894 (Sep 15) Waybill for a parcel sent from Meched to Nichapour with 1891 1Kr tied by Meched cds (with incorrect date as it was a common practice not to change the date appropriately), Nichapour arrival, fine, plus piece of waybill from Nichapour with three 5F, 1kr and 10ch.
Please note that we are still working on adding images for the lots. If the lot you are interested in does not have images available yet, we invite you to check again in a few days.
If you still cannot find the images you are looking for in a few days, please send us a message. Important: don't forget to mention the lot number(s).
Thank you for your understanding.