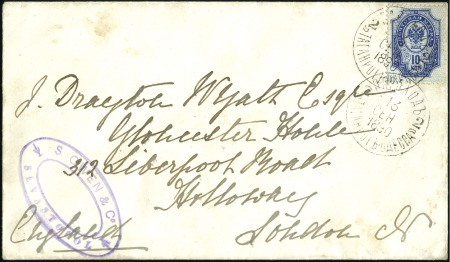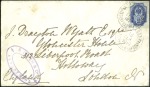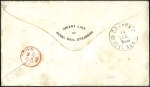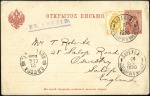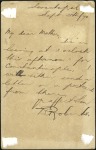 Russia » Ship Mail » Ship Mail in the Sea of Azov
Auction date
Sat 3 Dec 2016 at 10:00 (Europe/Zurich)
1890 3k Postal stationery card uprated 1k and stationery cover of Orient Line of Royal Mail Steamers, franked 10k, both addressed from the Crimean port of Sevastopol to England cancelled STEAMSHIP/"TAGANROG-ODESSA" cds's. Card posted on Ship '1' 20 sept. and cover on Ship '2' 13 Sept. 1890, both put ashore at Odessa next day. These ships were part of the Russian Coast Mail Line between ports in the Sea of Azov and Odessa via the Crimea.
Please note that we are still working on adding images for the lots. If the lot you are interested in does not have images available yet, we invite you to check again in a few days.
If you still cannot find the images you are looking for in a few days, please send us a message. Important: don't forget to mention the lot number(s).
Thank you for your understanding.