Lot 10341 –
1886 Opened out envelope sent from Kerch-Enikol, a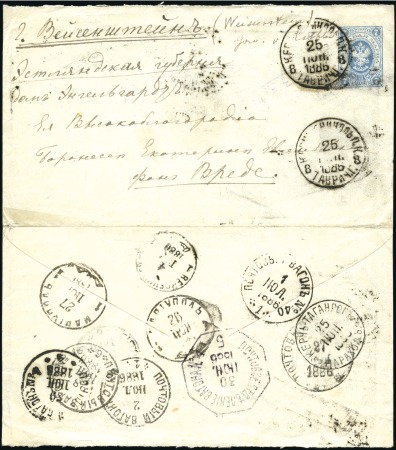 Lot 10341 –
1886 Opened out envelope sent from Kerch-Enikol, a
Russia » Ship Mail » Ship Mail in the Sea of Azov
Auction date
Sat 3 Dec 2016 at 10:00 (Europe/Zurich)
1886 Opened out envelope sent from Kerch-Enikol, at the eastern extremity of the Crimea, to Viesenshtein in the Baltic province of Estland. the 11 backstamps show that during its 8 days journey the letter was handled by atleast 8 different T.P.O.'s as follows: Placed on KERCH-TAGANROG STEAMSHIP same day as posting (25 6), put ashore at Mariupol next day,, transferred 27th to Postal Wagon No. 79 (Mariupol-Zvierevo), on 28th to Postal Wagon No. 18 (Kiev-Moscow); on 29th to Postal Wagon No. 7 (Orel-Dvinsk); thence on branch-line route No. 4 (Warsaw-St Petersburg) (octagonal mark) on 30th; transferred 1st July to Postal Wagon No. 40 (Riga-St Petersburg); next day to Postal Wagon No. 126 (Pernov-Pskov); on 3rd to Postal Wagon No. 90 (Hapsal-Taps), reached Veisenshtein on 4th.
Please note that we are still working on adding images for the lots. If the lot you are interested in does not have images available yet, we invite you to check again in a few days.
If you still cannot find the images you are looking for in a few days, please send us a message. Important: don't forget to mention the lot number(s).
Thank you for your understanding.