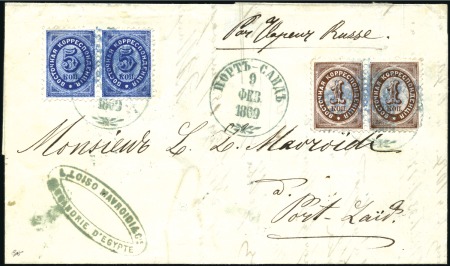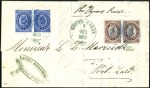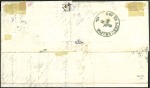 Russia » Ship Mail » Ship Mail in the Levant
Price realised
15'000 EUR
Auction date
Sat 3 Dec 2016 at 10:00 (Europe/Zurich)
1869 Folded letter from Alexandria (Egypt) franked Russian Levant 1868 1k brown pair and 5k blue pair to pay double rate to Port Said tied by blue '785' triangle of dots of Alexandria, further tied by Port Said Russian P.O. cds, all in blue, from the Mavroidi correspondence (cachet alongside), PORT ALEKSANDRIYA blue departure backstamp. Stunning showpiece. Rated RR to RRR in Tchilinghirian. Port Said is the Mediterranean entrance to the Suez Canal, inaugurated in 1869. A Russian PO was opened there in 1867 and Port Said became a regular port of call for several Russian shipping lines. The Russian PO's in Alexandria and Port said were closed on 1 October 1875.
Please note that we are still working on adding images for the lots. If the lot you are interested in does not have images available yet, we invite you to check again in a few days.
If you still cannot find the images you are looking for in a few days, please send us a message. Important: don't forget to mention the lot number(s).
Thank you for your understanding.