Lot 10036 –
1909 Picture postcard of a captured whale at the M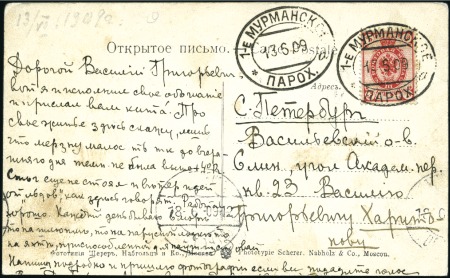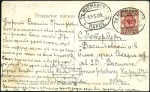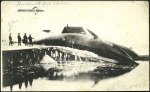 Lot 10036 –
1909 Picture postcard of a captured whale at the M
Russia » Ship Mail » Ship Mail in the Arctic and Northern Russia – Sea Mail
Auction date
Sat 3 Dec 2016 at 10:00 (Europe/Zurich)
1909 Picture postcard of a captured whale at the Murman Biological Station sent to St. Petersburg with 3k Arms tied by oval "1st MURMAN STEAMSHIP "a" 13 6 09″ ds, with arrival cds adjacent, minor toning, fine Due to the influence of the warm North Atlantic Drift (Gulf Stream), ships were able to serve habitations along the Murman coast to the Norwegian port of Vardo long after the White Sea was closed by winter ice.
Please note that we are still working on adding images for the lots. If the lot you are interested in does not have images available yet, we invite you to check again in a few days.
If you still cannot find the images you are looking for in a few days, please send us a message. Important: don't forget to mention the lot number(s).
Thank you for your understanding.