Lot 32030 –
Vlorë-Valona : 1855c, Entire letter from Triest to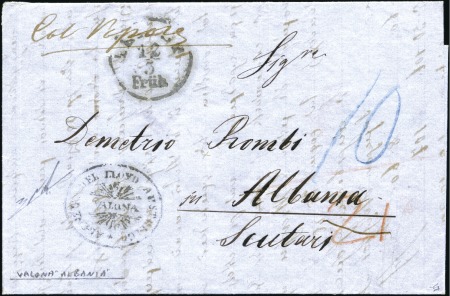 Lot 32030 –
Vlorë-Valona : 1855c, Entire letter from Triest to
Albania » Austrian Levant Post Offices
Auction date
Tue 29 Nov 2016 at 10:00 (Europe/Zurich)
Vlorë-Valona : 1855c, Entire letter from Triest to Scutari, Albania via Valona with extremely fine strike of rare Sunburst oval AGENZIA DEL LLOYD AUSTRIACO / VALONA in black. Despatch cds of "Triest / Früh" above in black (12/3). Unrecorded in any catalogue, although Tchilinghirian & Stephen state that the Valona Agency would have received a cancel of this type in 1854 (see page 305). As far as we are aware, a unique usage. Signed Nakri.
Please note that we are still working on adding images for the lots. If the lot you are interested in does not have images available yet, we invite you to check again in a few days.
If you still cannot find the images you are looking for in a few days, please send us a message. Important: don't forget to mention the lot number(s).
Thank you for your understanding.