Lot 32026 –
San Giovanni di Medua-Shëngjin : 1898 Registered c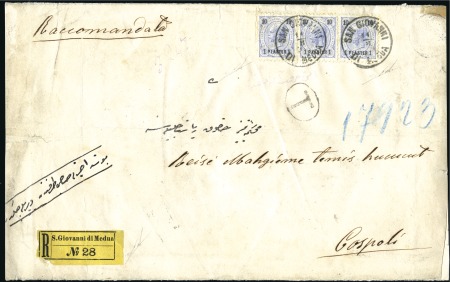 Lot 32026 –
San Giovanni di Medua-Shëngjin : 1898 Registered c
Albania » Austrian Levant Post Offices
Auction date
Tue 29 Nov 2016 at 10:00 (Europe/Zurich)
San Giovanni di Medua-Shëngjin : 1898 Registered cover sent from Shëngjin Austrian Levant Post Office to Constantinople bearing strip of three 1 piastre/10 Kreuzer tied by circular SAN GIOVANNI DI MEDUA postmarks alongside yellow & black registration label (No:28) the post office was not recognized by Ottoman Post Office for this reason Taxed on reverse by 6X1 piastre postage Due stamps and tied by all Arabic double-circle "Battal" postmarks.(Tchilinghirian fig.470).Signed Nakri.
Please note that we are still working on adding images for the lots. If the lot you are interested in does not have images available yet, we invite you to check again in a few days.
If you still cannot find the images you are looking for in a few days, please send us a message. Important: don't forget to mention the lot number(s).
Thank you for your understanding.