Lot 32017 –
Shkodër-İşkodra 1892 issue 20 para claret postal s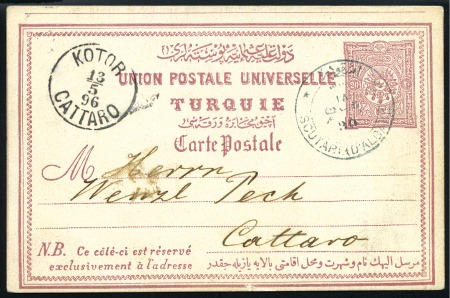 Lot 32017 –
Shkodër-İşkodra 1892 issue 20 para claret postal s
Albania » Turkish Post Offices
Auction date
Tue 29 Nov 2016 at 10:00 (Europe/Zurich)
Shkodër-İşkodra 1892 issue 20 para claret postal stationery card used in 1896 from Scutari to Cattaro showing bilingual with stars type "Scutari (D'Albanie)" datestamp struck in blue-green (Coles & Walker fig. 53), with, alongside, circular "Kotor / Cattaro" arrival cds (13/5). This card is illustrated in ISFILA, volume five, on page 204. Rare and fine.
Please note that we are still working on adding images for the lots. If the lot you are interested in does not have images available yet, we invite you to check again in a few days.
If you still cannot find the images you are looking for in a few days, please send us a message. Important: don't forget to mention the lot number(s).
Thank you for your understanding.