Lot 32016 –
Shkodër-İşkodra 1864 Postal receipt for 100 piastr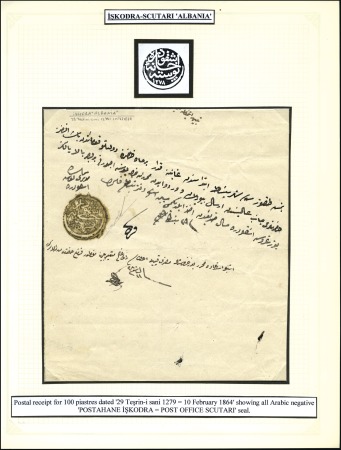 Lot 32016 –
Shkodër-İşkodra 1864 Postal receipt for 100 piastr
Albania » Turkish Post Offices
Auction date
Tue 29 Nov 2016 at 10:00 (Europe/Zurich)
Shkodër-İşkodra 1864 Postal receipt for 100 piastres dated "29 Teşrin-i sani 1279 = 10 February 1864" with superb strike of all Arabic negative "Postahane-i İşkodra 1278" handstamp in black (Coles & Walker fig. 2). Superb and extremely rare. Signed Nakri.
Please note that we are still working on adding images for the lots. If the lot you are interested in does not have images available yet, we invite you to check again in a few days.
If you still cannot find the images you are looking for in a few days, please send us a message. Important: don't forget to mention the lot number(s).
Thank you for your understanding.