Lot 30126 –
40c Siège en bande de cinq obl. La Roche sur Yon 2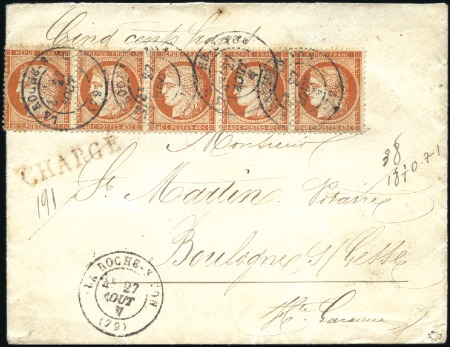 Lot 30126 –
40c Siège en bande de cinq obl. La Roche sur Yon 2
France
Auction date
Mon 22 Jun 2015 at 10:00 (Europe/Zurich)
40c Siège en bande de cinq obl. La Roche sur Yon 27.08.71 sur lettre chargée avec valeur déclarée 500F (2è éch. 50c +droit fixe 50c +20c par 100F) pour Boulogne sur Gesse, arr., TB, signé Roumet,
Please note that we are still working on adding images for the lots. If the lot you are interested in does not have images available yet, we invite you to check again in a few days.
If you still cannot find the images you are looking for in a few days, please send us a message. Important: don't forget to mention the lot number(s).
Thank you for your understanding.