Lot 10070 –
SHANGHAI: 1908 3k 'Kitai' stationery card (overpri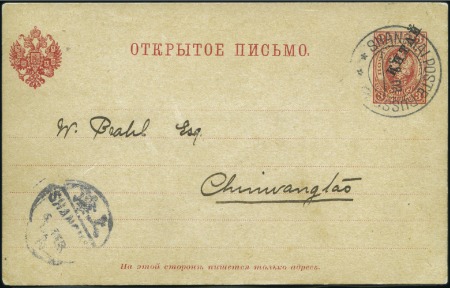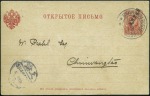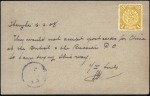 Lot 10070 –
SHANGHAI: 1908 3k 'Kitai' stationery card (overpri
Russia » Russia Post in China
Auction date
Wed 12 Dec 2012 at 10:00 (Europe/Zurich)
SHANGHAI: 1908 3k 'Kitai' stationery card (overprint misplaced) addressed to Chinwangtao, China, neatly cancelled by SHANGHAI POSTE RUSSE cds (Subtype 6A), with un cancelled CIP 1c on reverse with interesting inscription "They would not accept postcards for China at the British & the Russian PO so I am trying this way", very fine, unusual & scarce Note: The foreign PO's in China existed for transmission of mail abroad, since China was not a member of the UPU and its stamps had no validity for postage outside the country.
上海:1908年,俄國客郵3戈比郵資卡(加蓋錯置),寄秦皇島,銷上海海外郵局戳(Subtype 6A型),混貼蟠龍票1分,背有一段趣文字"他們不接受英國及俄國在華客郵局的明信片,故我嘗試用此法。上品,少見。 備註:外國在華客郵能寄信至外國,因為當時中國未加入萬國郵聯,故其郵票不被外國接受。
Please note that we are still working on adding images for the lots. If the lot you are interested in does not have images available yet, we invite you to check again in a few days.
If you still cannot find the images you are looking for in a few days, please send us a message. Important: don't forget to mention the lot number(s).
Thank you for your understanding.