Lot 10045 – Russia » Russia Post in China
PEKING: 1916 Picture postcard to Kashgar (SINKIANG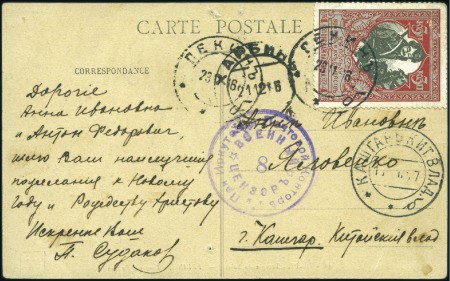 PEKING: 1916 Picture postcard to Kashgar (SINKIANG) with 3k War Charity stamp tied by Peking 23.11.16 (T&S type7B), sent via Harbin (Manchuria) and Irkutsk (Siberia) (where violet censor cachet was applied) with Kashgar 17.1.17 arrival cds, a very rare franking and route, showing re-entry into China Note: War Charity stamps were not on sale in Russian P.O.s in China, but were accepted when supplied by the customer. Note: Illustrated in "Russische Postcensuur 1914-1918" pg.23 by A. Speeckaert.
北京:1916年图案明信片寄喀什(新疆),贴战争慈善票3戈比,销北京圆戳(1916.11.23)(T&S 7B),经哈尔滨(满州里)及伊尔库茨车(西伯利亚)(销紫色邮检戳),亦见销喀什到达戳(1917.1.17),极罕见的邮封及邮路 备注;中国的俄国客邮没有出售战争慈善票,但接受顾客自备
Estimate
400 – 700 EUR
Auction date
Wed 12 Dec 2012 at 10:00:00 (Europe/Zurich)
Sold for EUR 3400
If you have a strong interest in a specific lot and would like more information or further scans, click the below button and send us a message. Important: don't forget to mention the lot number(s).