Lot 10044 – Russia » Russia Post in China
PEKING: 1916 Cover registered to Denmark with 1899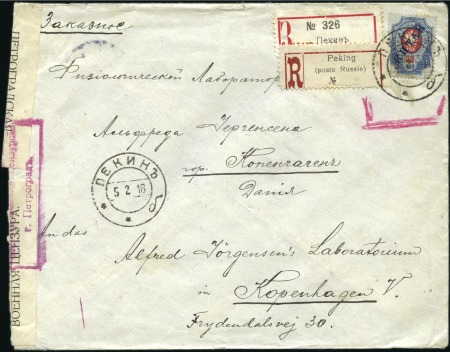 PEKING: 1916 Cover registered to Denmark with 1899-1908 "KITAI" 20k tied by Peking 5.2.16 cds (T&S type 7B), opened and resealed by censor at Pertrograd, with reg'd labels in Cyrillic and French adjacent, with red crayon mark highlighting the use of an old issue and the possibility of fraudulent re-use, an interesting cover.
北京:1916年挂号封寄丹麦,贴俄国客邮20戈比销北京圆戳(1916.2.5)(T&S 7B型),于彼得格勒,被邮检员拆开再封好,贴挂号标签(Cyrillic及法文),另红色粉笔标记于右上角,可能重复使用,具趣味性的邮封
Estimate
200 – 300 EUR
Auction date
Wed 12 Dec 2012 at 10:00:00 (Europe/Zurich)
Sold for EUR 300
Please note that we are still working on adding images for the lots. If the lot you are interested in does not have images available yet, we invite you to check again in a few days.
If by May 20th 2019 you still cannot find the images you are looking for, please send us a message. Important: don't forget to mention the lot number(s).
Thank you for your understanding.