Lot 10014 –
TIENTSIN: 1918 Dispatch document (complete) for se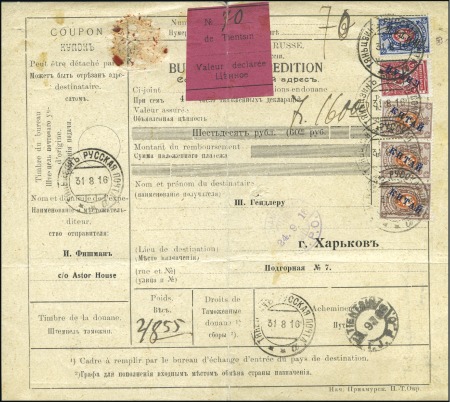 Lot 10014 –
TIENTSIN: 1918 Dispatch document (complete) for se
Russia » Russia Post in China
Auction date
Wed 12 Dec 2012 at 10:00 (Europe/Zurich)
TIENTSIN: 1918 Dispatch document (complete) for sending valued at 60R to Kharkov, franked with "KITAI" 4k, 14k and 70k (3) tied by Tientsin 31.8.16 cds (T&S type 6), red value declared (valeur declarée) label, sent via the Japanese P.O. at Changchun, rare as normally the left hand side "Coupon" was detached on arrival.
天津;1918年,寄送文件,內含60盧布寄哈爾科夫,貼俄國客郵4戈比及14戈比,7戈比三枚,銷天津圓日戳(1916.8.31)(T&S6型),貼紅色價值已清貼紙,經長春日本客郵局,十分罕有因為"Coupon"應位於左手邊,但此出現於收到處。
Please note that we are still working on adding images for the lots. If the lot you are interested in does not have images available yet, we invite you to check again in a few days.
If you still cannot find the images you are looking for in a few days, please send us a message. Important: don't forget to mention the lot number(s).
Thank you for your understanding.