Lot 20086 –
HANKOW: 1903 Envelope registered to Germany dispat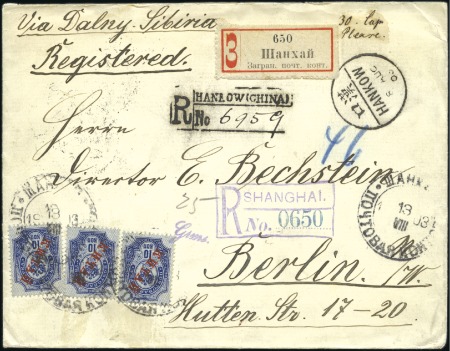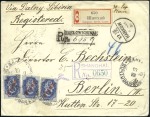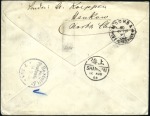 Lot 20086 –
HANKOW: 1903 Envelope registered to Germany dispat
Russia » Russia Post in China
Estimate
1'500 – 2'000 EUR
Auction date
Fri 20 Apr 2012 at 13:00 (Europe/Zurich)
HANKOW: 1903 Envelope registered to Germany dispatched from the Chinese P.O. with request for "30 Cop (Kopecs) / Please," with Hankow 8.8.03 bilingual cds and boxed registration hs, sent to Shanghai where it was transferred to the Russian P.O. and franked with three "KITAI" 10k tied by Shanghai cds (T&S type 1), with further boxed registration hs and label, Moscow and Berlin bs. Note: Although a Russian P.O.had existed at Hankow since 1896, it was frequently by-passed in preference to the Chinese P.O., which had a quicker service down the River Yangtze to Shanghai.
汉口:1903年挂号封寄德国,手写"请缴付30戈比",另销汉口汉英小圆戳(1903.8.8),长方形挂号戳,寄至上海俄国客邮,贴俄客邮10戈比三枚,销上海圆戳(T&S 1型),亦销长方形挂号戳及标签,及销莫斯科及柏林日戳 备注:虽然俄国客邮在1896年已存在于汉口,但其通常经中国邮政,因为能够快速地经长江至上海
Please note that we are still working on adding images for the lots. If the lot you are interested in does not have images available yet, we invite you to check again in a few days.
If you still cannot find the images you are looking for in a few days, please send us a message. Important: don't forget to mention the lot number(s).
Thank you for your understanding.