Lot 20074 –
CHEFOO: 1899 Printed envelope from the US Consulat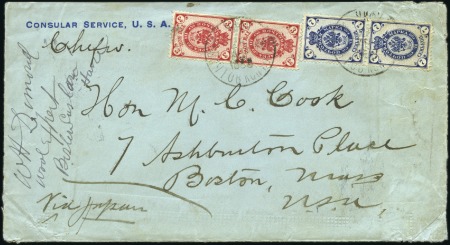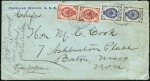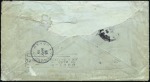 Lot 20074 –
CHEFOO: 1899 Printed envelope from the US Consulat
Russia » Russia Post in China
Auction date
Fri 20 Apr 2012 at 13:00 (Europe/Zurich)
CHEFOO: 1899 Printed envelope from the US Consulate in the Treaty Port of Chefoo to Boston, USA, with Arms 3k pair and 7k pair paying double the foreign letter rate, tied by Chefoo 26.04.99 cds (T&S type 2), split open on 3 sides and missing back flap Note: Ordinary Russian stamps were only supplied to the Russian P.O. in Chefoo up to 1899.
烟台:1899年印刷封由烟台商埠美国领事馆寄波士顿(美国),贴俄国3戈比及7戈比双联,为双倍国际邮资,销烟台圆戳(1899.4.26)(T&S2型),三面裂开,封口纸已缺 备注:烟台俄国客邮只供应原版俄国邮票至1899年
Please note that we are still working on adding images for the lots. If the lot you are interested in does not have images available yet, we invite you to check again in a few days.
If you still cannot find the images you are looking for in a few days, please send us a message. Important: don't forget to mention the lot number(s).
Thank you for your understanding.