Lot 20068 –
SHANGHAI: 1917 Cover registered to Sweden, franked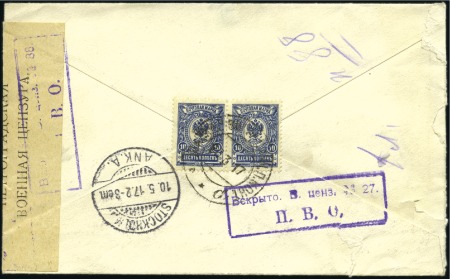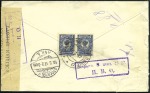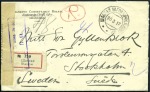 Lot 20068 –
SHANGHAI: 1917 Cover registered to Sweden, franked
Russia » Russia Post in China
Auction date
Fri 20 Apr 2012 at 13:00 (Europe/Zurich)
SHANGHAI: 1917 Cover registered to Sweden, franked on the reverse with ordinary Russian 10k pair tied by Shanghai 20.3.17 cds (T&S type 8A), opened and resealed by censor at Petrograd, obverse with reg'd label in Cyrillic and English, fine and scarce. Note: Ordinary Russian stamps were not available at the Russian P.O. at Shanghai, although they were accepted when supplied by the customer.
上海:1917年挂号封寄瑞典,背贴俄国10戈比双销销上海圆戳(1917.3.20)(T&S 8A型),经彼得格勒邮检打开及封好,另贴挂号标签(Cyrillic及英文),中上品及少见 备注:上海俄国客邮并未出售俄国邮票,但接受顾客自行提供
Please note that we are still working on adding images for the lots. If the lot you are interested in does not have images available yet, we invite you to check again in a few days.
If you still cannot find the images you are looking for in a few days, please send us a message. Important: don't forget to mention the lot number(s).
Thank you for your understanding.