Lot 20066 –
SHANGHAI: 1916 Improvised envelope for photographs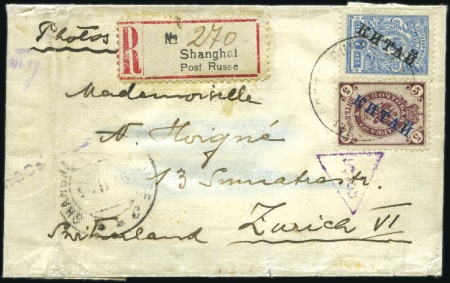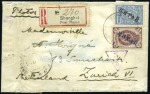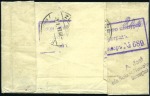 Lot 20066 –
SHANGHAI: 1916 Improvised envelope for photographs
Russia » Russia Post in China
Estimate
2'000 – 3'000 EUR
Auction date
Fri 20 Apr 2012 at 13:00 (Europe/Zurich)
SHANGHAI: 1916 Improvised envelope for photographs registered to Zurich with "KITAI" 5k and 7k paying the 2k printed matter rate plus 10k reg'n fee, tied by Shanghai 2.11.16 cds (unrecorded type with Cyrillic "c"), reg'd label in French (with misspelt "Poste"), with different censor mark on both sides applied at Petrograd, Zurich arrival, a very rare if not unique cancel on cover. Note: There is no previous record of serial "s" in any of the cancels used in the Russian P.O.s in China.
上海:1916年,简易封作图片挂号寄苏黎世,贴俄国客邮5及7戈比,销上海圆戳(1916.11.2)( Cyrillic"c"没有纪录),贴法文挂号卷标(拼错"邮政"),销不同的彼得格勒邮检戳,见销苏黎世到达戳,极罕有 备注:此上海戳并非之前纪录俄国客邮局的"s"戳
Please note that we are still working on adding images for the lots. If the lot you are interested in does not have images available yet, we invite you to check again in a few days.
If you still cannot find the images you are looking for in a few days, please send us a message. Important: don't forget to mention the lot number(s).
Thank you for your understanding.