Lot 20064 –
SHANGHAI: 1913 Cover sent unsealed to England with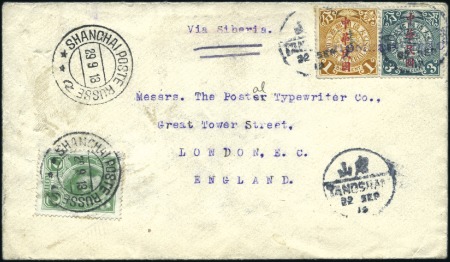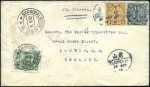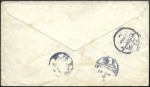 Lot 20064 –
SHANGHAI: 1913 Cover sent unsealed to England with
Russia » Russia Post in China
Auction date
Fri 20 Apr 2012 at 11:00 (UTC)
Description
SHANGHAI: 1913 Cover sent unsealed to England with China "Republic" 1c and 3c tied by Tangshan 22.09.13 cds, sent via Tientsin and Shanghai, where it was passed to the Russian P.O. and franked with 2k Romanov tied by Shanghai 29.9.13 cds (T&S type 6A), minor soiling, still a rare franking and a rare use of the printed matter rate.
上海:1913年寄英国封(无密封),贴蟠龙加盖中华民国1分及3分票,销唐山圆戳(19113.9.22),另销天津及上海戳,混贴俄国罗曼诺夫2戈比票销上海俄国客邮戳(1913.9.29)(T&S 6A型),微污,罕见的印刷品邮资
Please note that we are still working on adding images for the lots. If the lot you are interested in does not have images available yet, we invite you to check again in a few days.
If you still cannot find the images you are looking for in a few days, please send us a message. Important: don't forget to mention the lot number(s).
Thank you for your understanding.