Lot 20050 –
SHANGHAI: 1898 Cover registered to Revel with Arms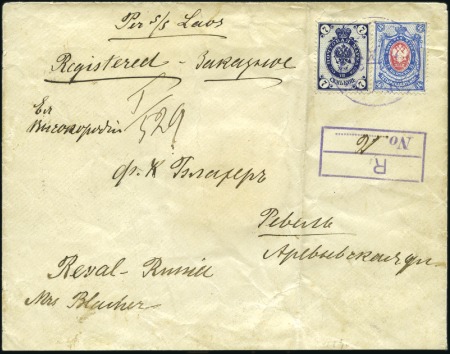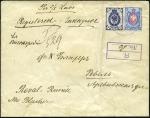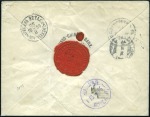 Lot 20050 –
SHANGHAI: 1898 Cover registered to Revel with Arms
Russia » Russia Post in China
Price realised
11'000 EUR
Estimate
8'000 – 12'000 EUR
Auction date
Fri 20 Apr 2012 at 11:00 (UTC)
Description
SHANGHAI: 1898 Cover registered to Revel with Arms 7k and 14k tied by single circle Shanghai provisional cancel in violet, with further strike on reverse with ms date 29.1.96 (the year plug was unchangeable, not recorded by T&S), boxed registration hs adjacent, sent overland (and not by SS Laos as annotated) with St. Petersburg and arrival bs, vertical fold clear of stamps. One of only two known examples of this cancel used "posthumously" in 1898, the registered cachet being unique Note: The Shanghai Office was opened in 1896 and for a short time used this locally improvised canceller. See the British Journal of Russian Philately no.71 (1991) p.12-15 for more information.
上海:1898年挂号封寄Revel,贴俄国票7戈比及14戈比,销紫色上海单圈临时戳,封背手写1896.1.29(Tchilinghirian没有纪录),销挂号戳,经陆路寄送,见销圣彼得堡及到达戳 存世只有两个纪录于1898年使用"posthumously"戳,罕有,此为其中之一 备注:上海邮政局于1896年成立,只有短时间使用这种本地简易邮戳,请参考英国邮刊之俄国特刊1991年第71期页2-15
Please note that we are still working on adding images for the lots. If the lot you are interested in does not have images available yet, we invite you to check again in a few days.
If you still cannot find the images you are looking for in a few days, please send us a message. Important: don't forget to mention the lot number(s).
Thank you for your understanding.