Lot 20033 –
PEKING: 1904 Cover registered to Paris with combin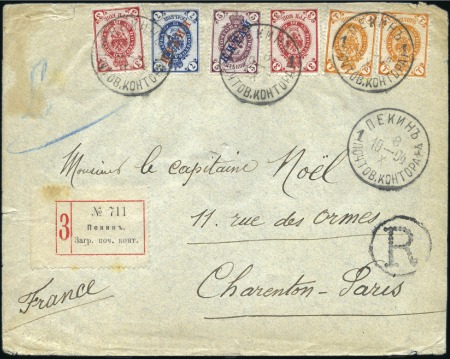 Lot 20033 –
PEKING: 1904 Cover registered to Paris with combin
Russia » Russia Post in China
Auction date
Fri 20 Apr 2012 at 13:00 (Europe/Zurich)
PEKING: 1904 Cover registered to Paris with combination of "KITAI" 5k and 7k and ordinary Russian 1k (2) and 3k (2), all tied by Peking 8.10.04 cds (T&S type 6), with registered label and encircled "dotted R" adjacent, wax seal removed and some cover faults, a very unusual franking as ordinary Russian stamps weren't sold by the P.O.s in China but were accepted when supplied by the customer.
北京:1904年挂号封寄巴黎,贴俄国客邮5及7戈比票,另贴俄国票1及3戈比各两枚,全部销北京圆戳(1904.10.8),贴挂号标签及销圆形虚线R戳,封蜡已失,微裂,为十分少见邮封,俄国原版票并未在俄国客邮局出售,但准许顾客使用
Please note that we are still working on adding images for the lots. If the lot you are interested in does not have images available yet, we invite you to check again in a few days.
If you still cannot find the images you are looking for in a few days, please send us a message. Important: don't forget to mention the lot number(s).
Thank you for your understanding.