Lot 20029 –
PEKING: 1903 Cover registered to Denmark with "KIT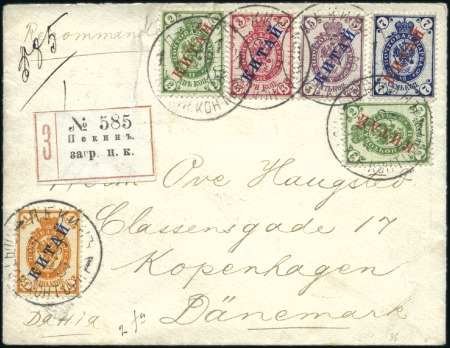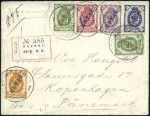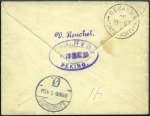 Lot 20029 –
PEKING: 1903 Cover registered to Denmark with "KIT
Russia » Russia Post in China
Auction date
Fri 20 Apr 2012 at 11:00 (UTC)
Description
PEKING: 1903 Cover registered to Denmark with "KITAI" 1k, 2k (2), 3k, 5k, 7k paying the 10k rate plus reg'n fee, tied by Peking 25.1.03 cds (T&S type 6), with "Peking / Post Office Abroad" registered label in Cyrillic, tear at top clear of stamps, a very attractive cover to a scarce destination. Note: The type 6 cancel was a replacement for the type 4 cancel lost during the Boxer Rebellion.
北京:1903年挂号封寄丹麦封,贴俄国客邮1,3,5,7戈比及两枚2戈比票,销北京圆戳(1903.1.25)(T&S6型),贴 "Peking / Post Office Abroad"挂号标签,由顶部撕开,罕有的目的地 备注:此6型邮戳取代在义和团运动期遗失的4型戳
Please note that we are still working on adding images for the lots. If the lot you are interested in does not have images available yet, we invite you to check again in a few days.
If you still cannot find the images you are looking for in a few days, please send us a message. Important: don't forget to mention the lot number(s).
Thank you for your understanding.