Los 10098 –
France. 1876 (May 30). Lettersheet from Le Havre to Buenos Aires, with 1871 25c type III strip of four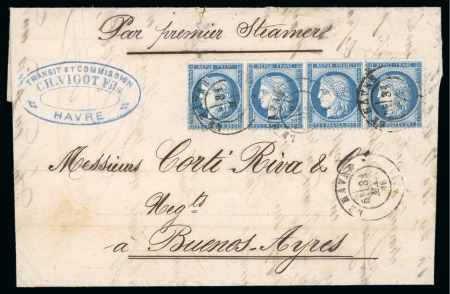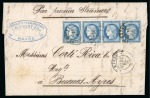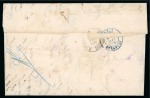 Los 10098 –
France. 1876 (May 30). Lettersheet from Le Havre to Buenos Aires, with 1871 25c type III strip of four
Argentina » Incoming Mail
Realisierter Preis
80 USD
Auktionsdatum
Mi. 13 Okt 2021 at 13:00 (UTC)
Beschreibung
France.
1876 (May 30). Lettersheet from Le Havre to Buenos Aires, with 1871 25c type III strip of four tied by neat cds, taken via Paris to Bordeaux and put aboard PSNC SS "Cotopaxi" to Valparaiso, calling at Montevideo and taken to Buenos Aires with 29th June arrival backstamp; a very attractive multiple on cover.
Katalog-Referenz:
Y&T 60c
Please note that we are still working on adding images for the lots. If the lot you are interested in does not have images available yet, we invite you to check again in a few days.
If you still cannot find the images you are looking for in a few days, please send us a message. Important: don't forget to mention the lot number(s).
Thank you for your understanding.
Loggen Sie sich in Ihr Konto ein