Los 10097 –
Belgium. 1871 (Jan 17). Entire from Antwerp to Buenos Aires, two 1865-67 40c, with very rare "CONFon. ARG / PAQ. BELGE" cds on reverse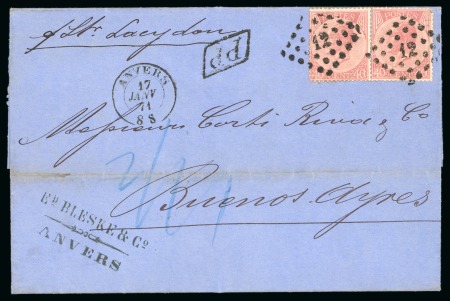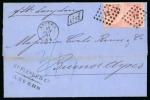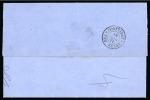 Los 10097 –
Belgium. 1871 (Jan 17). Entire from Antwerp to Buenos Aires, two 1865-67 40c, with very rare "CONFon. ARG / PAQ. BELGE" cds on reverse
Argentina » Incoming Mail
Realisierter Preis
500 USD
Auktionsdatum
Mi. 13 Okt 2021 at 13:00 (UTC)
Beschreibung
Belgium. 1871 (Jan 17). Entire from Antwerp to Buenos Aires, with two 1865-67 40c tied by crisp "12" dotted lozenges and dispatch cds adjacent, paying the single rate by Belgian direct route with very desirable "CONFon. ARG / PAQ. BELGE" 18th January cds on reverse, put onboard John Ryde line SS "Lacydon" to Buenos Aires, charge on arrival "2/4" for domestic postage, very fine and rare usage of the Belgian maritime postmark.
Katalog-Referenz:
Mi. 17D
Please note that we are still working on adding images for the lots. If the lot you are interested in does not have images available yet, we invite you to check again in a few days.
If you still cannot find the images you are looking for in a few days, please send us a message. Important: don't forget to mention the lot number(s).
Thank you for your understanding.
Loggen Sie sich in Ihr Konto ein