Los 10090 –
1872 (Jan 27). Mourning wrapper to Spain with 1871 50c and 1P cancelled by "parrilla colonial" obliterator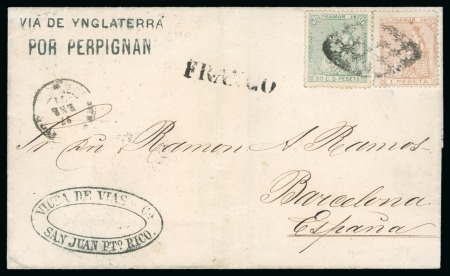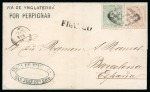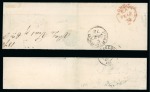 Los 10090 –
1872 (Jan 27). Mourning wrapper to Spain with 1871 50c and 1P cancelled by "parrilla colonial" obliterator
Puerto Rico
Realisierter Preis
120 USD
Auktionsdatum
Mi. 13 Okt 2021 at 15:00 (Europe/Zurich)
1872 (Jan 27). Mourning wrapper to Spain with 1871 50c and 1P cancelled by "parrilla colonial" obliterator with "FRANCO" adjacent, sent via the British P.O. in Peurto Rico with cds on reverse and carried by RMSPC "Mersey" to St. Thomas and transferred to the SS "Nile" to the UK, sent via London and arriving in Barcelona, very fine.
Please note that we are still working on adding images for the lots. If the lot you are interested in does not have images available yet, we invite you to check again in a few days.
If you still cannot find the images you are looking for in a few days, please send us a message. Important: don't forget to mention the lot number(s).
Thank you for your understanding.
Loggen Sie sich in Ihr Konto ein