Los 10086 –
Belgium. 1874 (Apr 15). Entire from Antwerp to Jacmel, Haiti, with 1869-78 10c, 40c and 1F tied by Anvers Station cds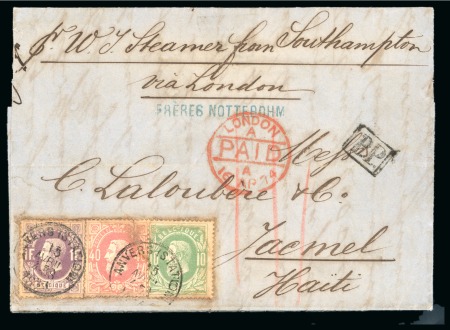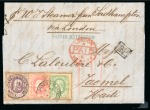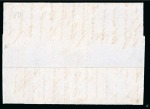 Los 10086 –
Belgium. 1874 (Apr 15). Entire from Antwerp to Jacmel, Haiti, with 1869-78 10c, 40c and 1F tied by Anvers Station cds
Haiti » Incoming Mail
Realisierter Preis
240 USD
Auktionsdatum
Mi. 13 Okt 2021 at 13:00 (UTC)
Beschreibung
Belgium. 1874 (Apr 15). Entire from Antwerp to Jacmel, Haiti, with 1869-78 10c, 40c and 1F tied by Anvers Station cds, sent via Ostende to London with transit and ms "1/1" credited to the UK, then from Southampton onboard RMSPC "Elbe" to Jacmel (no arrival), tear to 40c, toning around stamps and minor internal splitting along folds, scarce destination from Belgium.
Katalog-Referenz:
Y&T 30, 34, 36a
Please note that we are still working on adding images for the lots. If the lot you are interested in does not have images available yet, we invite you to check again in a few days.
If you still cannot find the images you are looking for in a few days, please send us a message. Important: don't forget to mention the lot number(s).
Thank you for your understanding.
Loggen Sie sich in Ihr Konto ein