Los 10083 –
Great Britain. 1875 (Jul 5). Entire from London to Guatemala, with 1873-80 1s pl.11 tied by London "95" duplex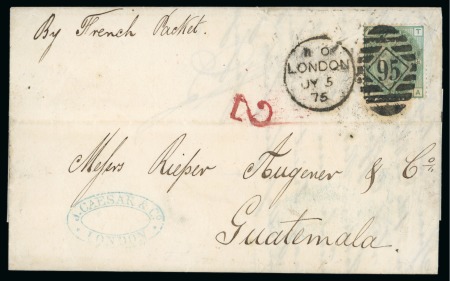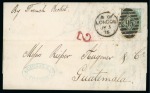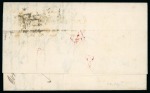 Los 10083 –
Great Britain. 1875 (Jul 5). Entire from London to Guatemala, with 1873-80 1s pl.11 tied by London "95" duplex
Guatemala » Incoming Mail
Realisierter Preis
100 USD
Auktionsdatum
Mi. 13 Okt 2021 at 13:00 (UTC)
Beschreibung
Great Britain.
1875 (Jul 5). Entire from London to Guatemala, with 1873-80 1s pl.11 tied by London "95" duplex, endorsed "By French Packet" and routed to St. Nazaire where it was put aboard Line A SS "Lafayette" to Colon, thence to Panama and handed over to a Central American Steamship packet for Puerto San Josè and Guatemala City, "2" reales inland charge, fine.
Katalog-Referenz:
S.G. 150
Please note that we are still working on adding images for the lots. If the lot you are interested in does not have images available yet, we invite you to check again in a few days.
If you still cannot find the images you are looking for in a few days, please send us a message. Important: don't forget to mention the lot number(s).
Thank you for your understanding.
Loggen Sie sich in Ihr Konto ein