Los 10077 –
Great Britain. 1870 (Sep 1). Cover from Manchester to Curaçao, with 1867-80 1s green pl.4 paying single rate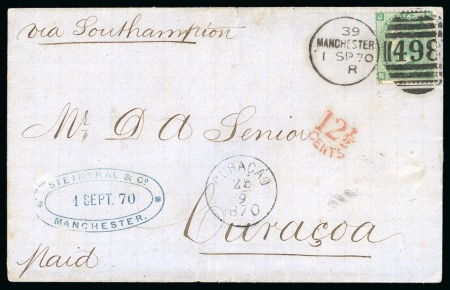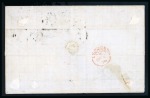 Los 10077 –
Great Britain. 1870 (Sep 1). Cover from Manchester to Curaçao, with 1867-80 1s green pl.4 paying single rate
Netherlands » Netherlands Colonies » Curacao » Incoming Mail
Realisierter Preis
Unverkauft
Auktionsdatum
Mi. 13 Okt 2021 at 15:00 (Europe/Zurich)
Great Britain. 1870 (Sep 1). Cover from Manchester to Curaçao, with 1867-80 1s green pl.4 paying single rate, tied by Manchester "498" duplex, taken to Southampton and put onboard the RMSPC SS "Seine", with "12 1/2 CENTS" accountancy hs (unrecorded in Van der Linden and the Tabeart handbook), arrival cds on front, very fine; a rare accountancy marking and an unusual destination for GB mail.
Please note that we are still working on adding images for the lots. If the lot you are interested in does not have images available yet, we invite you to check again in a few days.
If you still cannot find the images you are looking for in a few days, please send us a message. Important: don't forget to mention the lot number(s).
Thank you for your understanding.
Loggen Sie sich in Ihr Konto ein