Los 10068 –
1854 (May). Envelope to Boston, paying the 1 rigdaler 6 skilling banco rate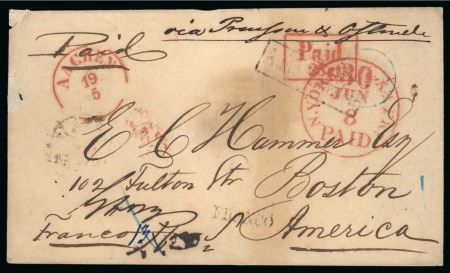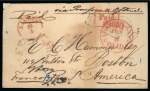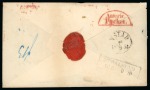 Los 10068 –
1854 (May). Envelope to Boston, paying the 1 rigdaler 6 skilling banco rate
Sweden
Realisierter Preis
Unverkauft
Auktionsdatum
Mi. 13 Okt 2021 at 15:00 (Europe/Zurich)
1854 (May) Envelope to Boston, paying the 1 rigdaler 6 skilling banco rate, routed via "Ystad" and "Stralsund" with ds on reverse along with blue "f13" crayon indicating that all transit fees beyond Prussia (13sgr, equal to 30c) had been paid, "AUS SCHWEDEN" hs, red "Aachen" cds, "Americ/Packet" semi-circle on reverse, "PAID/25 cents" hs noting fully paid and 25c to the USA, carried via Ostende and London to Southampton and put aboard American Ocean Line "Hermann", arriving in New York with cds for the fully paid 30c rate, minor cover imperfections; a rare pre-philatelic cover from Sweden to the USA (no Swedish pre-philatelic cover to the US was included in the Richard Winter collection).
Please note that we are still working on adding images for the lots. If the lot you are interested in does not have images available yet, we invite you to check again in a few days.
If you still cannot find the images you are looking for in a few days, please send us a message. Important: don't forget to mention the lot number(s).
Thank you for your understanding.
Loggen Sie sich in Ihr Konto ein