Los 10066 –
Spain. 1865 (Jan 7). Envelope from Cadiz to New York, USA,with 1865 2r imperf. strip of four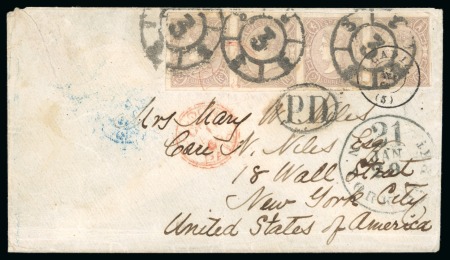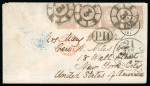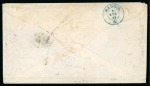 Los 10066 –
Spain. 1865 (Jan 7). Envelope from Cadiz to New York, USA,with 1865 2r imperf. strip of four
United States » Incoming Mail
Realisierter Preis
320 USD
Auktionsdatum
Mi. 13 Okt 2021 at 15:00 (Europe/Zurich)
Spain. 1865 (Jan 7). Envelope from Cadiz to New York, with 1865 2r imperforate strip of four, very close to large margins, tied by "3" circular numerals, despatch cds, London transit and "PD" hs, reverse with Madrid 9th Jan cds, and New York 21st Jan arrival, strip with small tear at left; attractive and early usage of this stamp one week after was issued ( Jan 1).
Please note that we are still working on adding images for the lots. If the lot you are interested in does not have images available yet, we invite you to check again in a few days.
If you still cannot find the images you are looking for in a few days, please send us a message. Important: don't forget to mention the lot number(s).
Thank you for your understanding.
Loggen Sie sich in Ihr Konto ein