Los 10063 –
Romania. 1873 (?) (May 21). Cover from Jassy to New York, carried at 85 bani rate with 1872 25b perf. 12 1/2, irregular block of three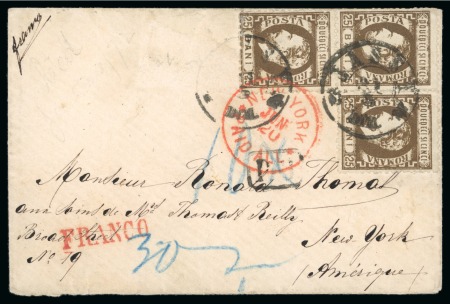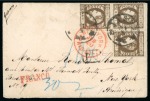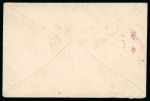 Los 10063 –
Romania. 1873 (?) (May 21). Cover from Jassy to New York, carried at 85 bani rate with 1872 25b perf. 12 1/2, irregular block of three
United States » Incoming Mail
Realisierter Preis
3'600 USD
Schätzung
2'500 – 4'000 USD
Auktionsdatum
Mi. 13 Okt 2021 at 15:00 (Europe/Zurich)
Romania. 1873 (?) (May 21). Cover from Jassy to New York, carried at 85 bani rate with 1872 25b perf. 12 1/2, irregular block of three, with 10b stamp missing, routed via Austria to Germany where it was struck with red "Franco" straight line and "30x" blue crayon, carried by the Hapag "Hammonia II", red "Paid All" New York cds also tying the franking; an extremely rare transatlantic mail from Romania in this period -another cover from the same correspondence was described as "a unique and extraordinary transatlantic usage…" as part of the "Cornelia" collection and it was offered at CHF20'000 in 2007-.
Please note that we are still working on adding images for the lots. If the lot you are interested in does not have images available yet, we invite you to check again in a few days.
If you still cannot find the images you are looking for in a few days, please send us a message. Important: don't forget to mention the lot number(s).
Thank you for your understanding.
Loggen Sie sich in Ihr Konto ein