Los 10061 –
Norway. 1867 (April 28). Envelope from Christiana to St. Louis, 1863-67 4sk and 24sk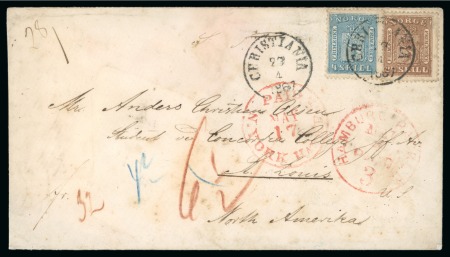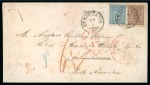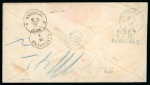 Los 10061 –
Norway. 1867 (April 28). Envelope from Christiana to St. Louis, 1863-67 4sk and 24sk
United States » Incoming Mail
Realisierter Preis
1'400 USD
Schätzung
1'200 – 2'000 USD
Auktionsdatum
Mi. 13 Okt 2021 at 15:00 (Europe/Zurich)
Norway. 1867 (April 28). Envelope from Christiana to St. Louis, paying the 28sk single Hapag rate (equivalent to 25 cents) with 1863-67 4sk and 24sk, tied by neat "Christiana" cds on dispatch, red crayon "6 1/2" Sgr (15c) for German and foreign carriage plus Norwegian (7c) and Danish (3c) transit fees making up the rate, routed via Sandosund with backstamp to Denmark with "32" sk at lower left for Danish transit onwards to Kiel and Hamburg, where it was put aboard Hapag "Sassonia" with red "HAMBURG/PACKET/PAID/3" cds denoting the U.S. credit of 3 cents; a scarce transatlantic mail; only two covers known with this franking and only four in total sent to the USA showing this rate according to the Nk Postal 2012 catalogue; cert. Aune (2012).
Please note that we are still working on adding images for the lots. If the lot you are interested in does not have images available yet, we invite you to check again in a few days.
If you still cannot find the images you are looking for in a few days, please send us a message. Important: don't forget to mention the lot number(s).
Thank you for your understanding.
Loggen Sie sich in Ihr Konto ein