Los 10020 –
1861 (Feb 23). Entire letter from New Orleans to Bordeaux, carried by the "Adriatic" under the Cunard Line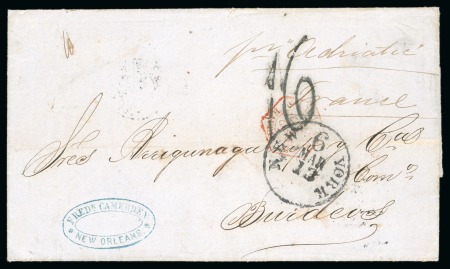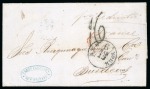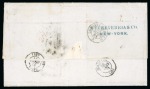 Los 10020 –
1861 (Feb 23). Entire letter from New Orleans to Bordeaux, carried by the "Adriatic" under the Cunard Line
United States » Outgoing Mail
Realisierter Preis
240 USD
Auktionsdatum
Mi. 13 Okt 2021 at 15:00 (Europe/Zurich)
1861 (Feb 23). Entire letter from New Orleans to Bordeaux, carried by forwarding agent to New York with corresponding "M. ECHEVARRIA & CO./NEW-YORK." two-line hs in blue on reverse, 6 cents double rate exchange debit cds of New York on front, for two rates under U.S.-France Treaty, carried as endorsed by the "Adriatic", red entry octagon of Havre and "16" decimes due rating (double rate "10" grams in ms at top left); this was the only voyage that the "Adriatic" made under charter for the Cunard Line.
Please note that we are still working on adding images for the lots. If the lot you are interested in does not have images available yet, we invite you to check again in a few days.
If you still cannot find the images you are looking for in a few days, please send us a message. Important: don't forget to mention the lot number(s).
Thank you for your understanding.
Loggen Sie sich in Ihr Konto ein