Los 10017 –
1859, June 4. Cover from New Orleans to Germany, 1859 10c green, type V in vertical strip of three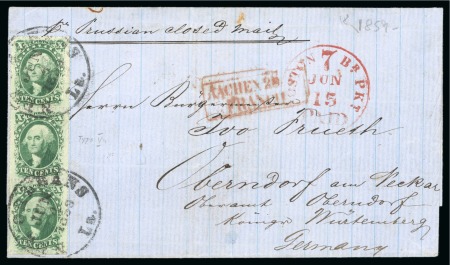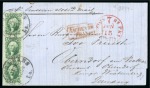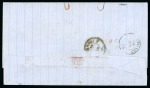 Los 10017 –
1859, June 4. Cover from New Orleans to Germany, 1859 10c green, type V in vertical strip of three
United States » Outgoing Mail
Realisierter Preis
170 USD
Auktionsdatum
Mi. 13 Okt 2021 at 15:00 (Europe/Zurich)
1859 (Jun 4). Cover from New Orleans to Oberdorf am Neckar (Wurttemberg), paying the Prussian closed mail (as endorsed at top) with 1859 10c green, type V in vertical strip of three, tied by dispatch cds's. With Boston Br. Pkt. 7c cds indicating credit to Prussia, following conveyance of the Cunard SS "America" to Liverpool, showing red framed "AACHEN 28/FRANCO" hs on obverse, backstamped on arrival; an appealing usage.
Please note that we are still working on adding images for the lots. If the lot you are interested in does not have images available yet, we invite you to check again in a few days.
If you still cannot find the images you are looking for in a few days, please send us a message. Important: don't forget to mention the lot number(s).
Thank you for your understanding.
Loggen Sie sich in Ihr Konto ein