Los 10015 –
1858 (Sept 6). Envelope from Hartford to St. Petersburg, with 1857-61 1c blue, type V, and 12c black, plate 1, pair and single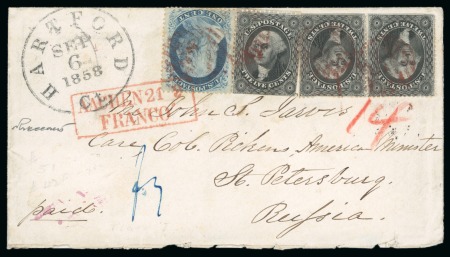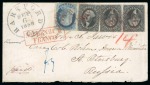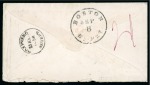 Los 10015 –
1858 (Sept 6). Envelope from Hartford to St. Petersburg, with 1857-61 1c blue, type V, and 12c black, plate 1, pair and single
United States » Outgoing Mail
Realisierter Preis
350 USD
Auktionsdatum
Mi. 13 Okt 2021 at 15:00 (Europe/Zurich)
1858 (Sep 6). Envelope from Hartford to St. Petersburg (Jarvis correspondence), paying the single rate for Prussian closed mail with 1857-61 1c blue, type V, and 12c black, plate 1, pair and single (partly trimmed by scissors), tied by red barred hs, Hartford cds at left, "142 red crayon representing 14sgr debited to Russia and Aachen framed ds also tying the 1c denomination, additionally charged in ms with "f3" Silbergroschen for Russian internal fees, arrival cds on back, carried by the Cunard SS "Canada"; cover edge faults at base, an attractive and scarce usage.
Please note that we are still working on adding images for the lots. If the lot you are interested in does not have images available yet, we invite you to check again in a few days.
If you still cannot find the images you are looking for in a few days, please send us a message. Important: don't forget to mention the lot number(s).
Thank you for your understanding.
Loggen Sie sich in Ihr Konto ein