Los 70056 –
1840 2d Blue pl.1 PE-QE vertical pair, close to large margins, on 1843 (Jun 22) envelope from Eccleshill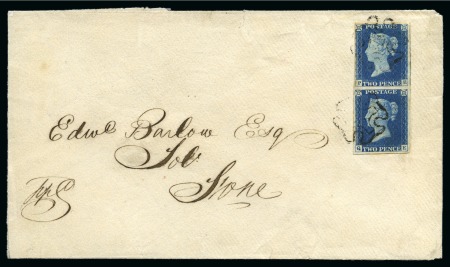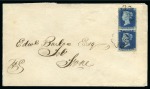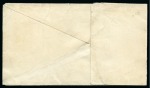 Los 70056 –
1840 2d Blue pl.1 PE-QE vertical pair, close to large margins, on 1843 (Jun 22) envelope from Eccleshill
Great Britain » The "Quercus" Collection » 1840 2d Blue
Realisierter Preis
1'100 GBP
Schätzung
1'600 – 1'800 GBP
Auktionsdatum
Fr. 18 Jun 2021 at 07:00 (UTC)
Beschreibung
1840 2d Blue pl.1 PE-QE vertical pair, close to large margins, on 1843 (Jun 22) envelope from Eccleshill (Yorkshire) to Stone, tied by neat black Maltese Crosses, with despatch and arrival bs, envelope folded behind at left for display, a little toning around stamps, very fine and late usage.
Please note that we are still working on adding images for the lots. If the lot you are interested in does not have images available yet, we invite you to check again in a few days.
If you still cannot find the images you are looking for in a few days, please send us a message. Important: don't forget to mention the lot number(s).
Thank you for your understanding.
Loggen Sie sich in Ihr Konto ein