Los 71587 –
Zanzibar SGD3 3c Post Due x 2 used as Postage Stamps on Cover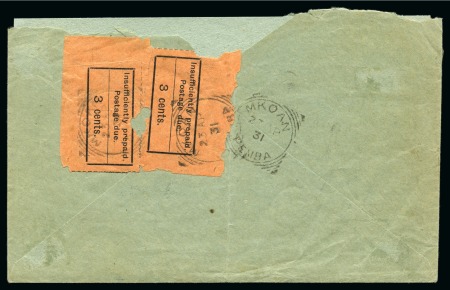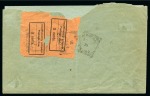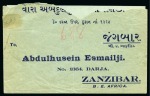 Los 71587 –
Zanzibar SGD3 3c Post Due x 2 used as Postage Stamps on Cover
Zanzibar
Realisierter Preis
Unverkauft
Auktionsdatum
Fr. 18 Jun 2021 at 15:00 (Europe/Zurich)
Postage Due. 1931 (23 APR) Abdulhusein Esmailji printed blue/green cover (with bilingual Gujrati/English address) from MKOAN PEMBA to Zanzibar franked on reverse by 1926-30 3c black/orange postage dues x2 (R1/2 and 5/1 from corrected setting) overlapping an original strike of the despatch squared circle though tied by two further strikes; the cover and stamps with faults, still of good appearance, a unique and exceptional usage with there being no other instance of the usage of 1926-30 and 1930-33 postage due issues outside the Zanzibar G.P.O. 
Note: a possible explanation, in the absence of any tax markings, is that postage dues were used as provisional postage stamps. Ex Griffith-Jones (discussed and illustrated as Fig 11.37 on page 318 of his book census f.102) 
Please note that we are still working on adding images for the lots. If the lot you are interested in does not have images available yet, we invite you to check again in a few days.
If you still cannot find the images you are looking for in a few days, please send us a message. Important: don't forget to mention the lot number(s).
Thank you for your understanding.
Loggen Sie sich in Ihr Konto ein