Los 71569 –
1935-60, Specialised collection of commemorative written up in 6 albums, with photographic essays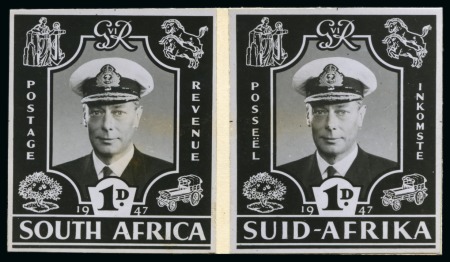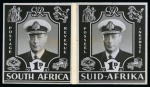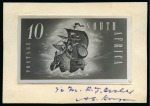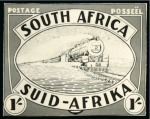 Los 71569
South Africa » Collections, Lots etc.
Realisierter Preis
1'000 GBP
Schätzung
1'000 – 1'500 GBP
Auktionsdatum
Fri 18 Jun 2021 at 15:00 (Europe/Zurich)
Beschreibung:
1935-60, Specialised collection of commemorative written up in 6 albums with mint multiples with marginal ornaments, sheet numbers and varieties identified throughout, items of note with 1935 Silver Jubilee, 1937 Coronation incl. enlarged photographic essay with white touch ups, 1945 Victory, 1947 Royal Visit incl. 1d accepted photographic essay, 3d unaccepted design photographic essay and press photo, 1949 Natal Settler's Centenary, 1949 UPU incl. blocks signed by engraver, photographic press photo, 1949 unissued Kreuger commemorative artist's proof in red-brown, 1952 Van Riebeeck 5d Hope Seated essays (2) and 10 photographic essay, set on presentation cards signed by the designer, 1953 Coronation, 1953 Stamp Centenary, 1954 Orange Free State Centenary, etc., 1960 Golden Jubilee photographic essays, a great lot for the enthusiast.
Loggen Sie sich in Ihr Konto ein