Los 71004 –
1902ca. De La Rue Minerva head imperforate printers samples with AFRICA 2 1/2d duty plate set of eigh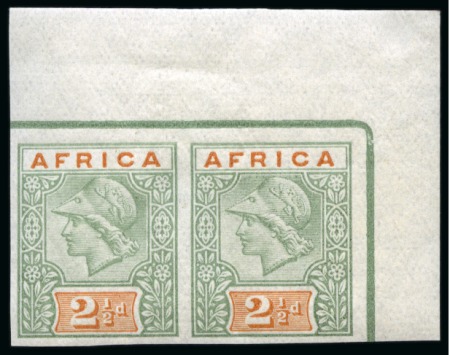 Los 71004 –
1902ca. De La Rue Minerva head imperforate printers samples with AFRICA 2 1/2d duty plate set of eigh
British Empire General Collections and Lots » British Empire Essays
Realisierter Preis
600 GBP
Auktionsdatum
Fr. 18 Jun 2021 at 15:00 (Europe/Zurich)
1902ca. De La Rue Minerva head imperforate printers samples with AFRICA 2 1/2d duty plate set of eight mint nh imperf. on unwatermarked wove paper, four different colour combinations (dull green and brown-orange, dull and bright purple, dull green and violet and dull green and carmine) each on both uncoated ordinary and chalk-surfaced paper; fine and fresh, produced when chalk-surfaced paper was introduced for the KEVII stamps of Transvaal and the Natal £1 10s.
Please note that we are still working on adding images for the lots. If the lot you are interested in does not have images available yet, we invite you to check again in a few days.
If you still cannot find the images you are looking for in a few days, please send us a message. Important: don't forget to mention the lot number(s).
Thank you for your understanding.
Loggen Sie sich in Ihr Konto ein