Los 71003 –
1892 De La Rue head die proof essay in black on white glazed card showing lined background around head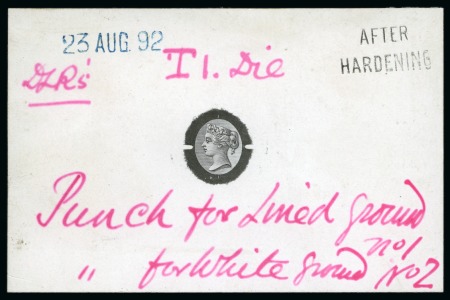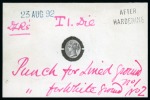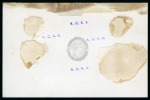 Los 71003 –
1892 De La Rue head die proof essay in black on white glazed card showing lined background around head
British Empire General Collections and Lots » British Empire Essays
Realisierter Preis
Unverkauft
Schätzung
900 – 1'200 GBP
Auktionsdatum
Fr. 18 Jun 2021 at 15:00 (Europe/Zurich)
1892 De La Rue head die proof essay in black on white glazed card showing lined background around head, with head by David Turner as an essay for De La Rue for issues such as the South Australia 1894 issue and unissued Oil Rivers issue, dated 23 AUG 92 and endorsed "AFTER HARDENING" with manuscript "DLR's T1. Die / Punch for line ground no 1 / for white ground No 2", thinned patches on reverse from being affixed to a page, fine and extremely rare.
Please note that we are still working on adding images for the lots. If the lot you are interested in does not have images available yet, we invite you to check again in a few days.
If you still cannot find the images you are looking for in a few days, please send us a message. Important: don't forget to mention the lot number(s).
Thank you for your understanding.
Loggen Sie sich in Ihr Konto ein